News
News and Events from Aquatic Solutions: 
10th Annual International Zebrafish Husbandry Course – 2023
We are pleased to announce the dates for the next 10th Annual International Zebrafish Husbandry Course, which will be held in Italy from the 9th-13th October 2023.
Presentations will be given by facility managers and vets who are advancing zebrafish husbandry in their facilities and in the zebrafish community. Attendees will get firsthand knowledge on how to improve their current facilities from speakers who have greatly improved the normal levels of zebrafish breeding, fry growth and facility management.
Some Topics:
BROODSTOCK MANAGEMENT
FRY REARING
HEALTH MANAGEMENT
ZEBRAFISH TECHNIQUES
GENETIC COLONY MANAGEMENT
FACILITY PLANNING
REGISTRATION DEADLINE: AUGUST 31st
Fee includes hotel accommodation, meals, internal travel in Italy 
As for the previous editions, we would like to keep the available seats limited in number, establishing an intimate environment able to foster important relationships and interactions.
WELCOME TO THE virtual 11TH EUROPEAN ZEBRAFISH MEETING 2020
Tecniplast welcomes you to the 11th European Zebrafish Meeting 2020, we are honoured to be the diamond sponsor!
Our tradition of innovation through passion never stops!
Tecniplast is excited to present the latest developments:
Z-PARK: the first and only 16 l elongated tank able to promote natural zebrafish behaviour and in-tank spawning capabilities
2,4 l tank: enhanced flexibility at rack and tank level 
InterZebTEC: our patent pending innovation in zebrafish colonies microbiological detection for standardized health monitoring procedures.
You cannot miss on the 26th of October:
our workshop at 10.50 AM, where Dr. Gianpaolo Milite - D.V.M. M.Sc.LAS will present InterZebTEC and its applications.
Hans-Peter Popp, from Tecniplast Deutchland, will present his interesting poster: Overview of AK KAB and next target: Recommendations and Guidelines for cleaning aquatic housing systems (10:30-10:55AM, Poster Session).
See you soon!
Cancelled - 9th Annual International Zebrafish Husbandry Course
Unfortunately, given the current situation related to the Coronavirus pandemic, we are forced to cancel the 9th Annual International Zebrafish Husbandry Course, scheduled for Fall this year.
Sadly enough and despite all our attempts to keep this important appointment alive, we have reached the common decision not to organize this event because of a highly unpredictable situation in relation to public health, funds availability and travel possibilities.
Organizers and speakers are saving all innovative ideas and the overflowing passion that has always distinguished us for an unforgettable 2021 course!
Registration is now open for this UAB Zebrafish Husbandry Education Online Course, Summer 2020
In recognition of restrictions necessary to ensure safety during the COVID-19 pandemic, the annual Zebrafish Husbandry Short Course in Birmingham, Alabama, has been postponed.  The new target date for this Course is January 2021.  More on this new date will be announced later.  However, for the first time a Summer Online Course is available.
Registration is now open for this UAB Zebrafish Husbandry Education Online Course, Summer 2020
Available through: University of Alabama at Birmingham (UAB)
Offering: 60 contact hours or 6.0 continuing education units (CEU)
Taught by: The Zebrafish Husbandry Education Team of the Zebrafish Husbandry Association
Cost: $450 per registrant
Start date: May 5, 2020
End date: August 28, 2020
Content:
Designed for technicians, scientists, & others working with zebrafish in biomedical research
Curriculum created and presented by leaders in zebrafish husbandry, aquaculture, laboratory animal science, and veterinary sciences
Coursework available on any computer or mobile device with an internet connection
Two new sessions come online each week
Each session includes PDF notes & a transcript to assist learning
Each session followed by an online quiz
Each session online for 3 weeks to accommodate time differences
Achieving a score of at least 80% on each quiz and completing a course evaluation earns the registrant a Certificate of Completion
Basic Fish Biology; Introduction to Zebrafish; Introduction to Water Quality; Making Water; Temperature; pH; Salinity, Alkalinity, and Hardness; Dissolved Gases; Nitrogenous Wastes; Mechanical Filtration; Biological Filtration; UV Sterilizers; Maintenance and Troubleshooting; Emergency Procedures and Preparation; Spawning Techniques; Larviculture; Zebrafish Nutrition; Production of Live Feeds; Cleaning and Disinfection; Prevention of Disease; Procedures for Quarantine; Introduction to Disease and Non-infectious Diseases; Nonbacterial Infectious Diseases; Bacterial Infectious Diseases; Anesthesia and Euthanasia; Aquatic Facilities Design; and Regulatory Oversight
The course contains 28 presentations on these topics:
For registration, please follow this link: https://prostudies.uab.edu/search/publicCourseSearchDetails.do?method=load&courseId=4607518
For More Information Contact:
Dr. Susan Farmer at This email address is being protected from spambots. You need JavaScript enabled to view it.
Tecniplast Aquatics e-Shop: come and shop with us!
Among the different species used in laboratory animal research, zebrafish has been the one that has raised most of the interest over the last years. The peculiarities of this animal model are nowadays well known within the research community and thanks to the latest technology implemented for the genome modification (CRISPR), the variety of fields where these tiny fish are used has simply exploded. The exponential growth of the applications has not although seen as much of innovation in the side services to properly support the peculiar needs of researchers and laboratory users. Digital technology has opened a multitude of opportunities, ranging   from better performing equipment, to data collection (to support research standardization), and improving support services.
Tecniplast since many years has adopted innovative technology in its systems and the application of sensors embedded in the equipment has become a standard. More precise and better-tracked system's performances as well as the flexibility provided by electronics and software are now commonly available and have improved the equipment greatly.
As industry leader at Tecniplast we have also worked significantly to improve the support service of the offer we are capable to propose to the industry. Specifically in the zebrafish community, we truly believe that there are still some unanswered needs in the industry: parts and consumables availability, simplicity of purchasing workflow and fast-shipping options for vital components.
Tecniplast Aquatics Solutions team is extremely happy and excited to communicate the launch of the first e-Shop service specifically implemented for the Zebrafish community: https://shop.tecniplastusa.com
The website features Tecniplast pieces of equipment (like the newly introduced sloped breeding tank and the I-spawn S etc..), Tecniplast systems consumables (pre-filter pad, mechanical filter cartridges, UV lamp etc..) but also all the most commonly used products in any zebrafish lab. Through specific partnership, the Tecniplast e-Shop offers colorimetric test kits, probe calibration solutions, diets, salts and sodium bicarbonate, brushes, thermometers and much more, which add to our traditional product portfolio.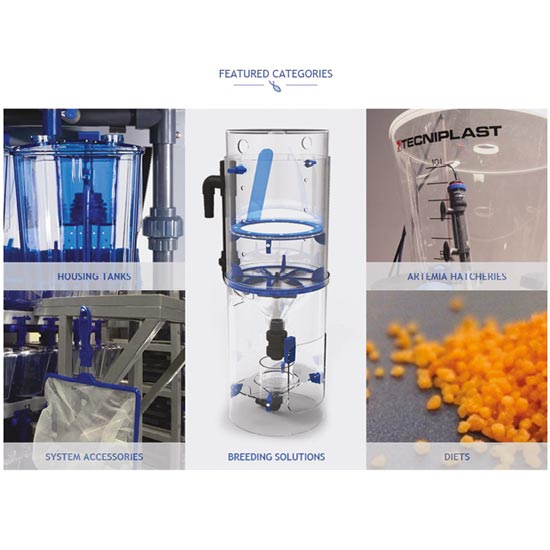 On the website you can find just what you need for your laboratory, putting an end to the endless search for what you need in pet e-shop and generic website re-seller. The Tecniplast e-Shop is exclusively dedicated to the zebrafish research laboratories, all the products are classified in simple categories and clearly described with specific pictures and descriptions. The structure of the website allows the user to be no more than 3 mouse clicks away from the products you need and add it to the shopping cart.
All the products shown on the website are physically available at the Tecniplast warehouse located in West Chester (PA) and all the orders processed through the e-Shop has the maximum priority within the organization, with the shared goal of delivery at destination within 72 hours from the order.
The beauty and the speed of an e-Shop website and the familiarity of a well known and dedicated brand!
Come and shop with us at https://shop.tecniplastusa.com
The e-Shop service is exclusively available for the US market. No purchases and deliveries are allowed abroad.                      
Massimo Ferrari
International Sales Area Manager